This post may contain affiliate links. A small portion of sales will go towards supporting And Hattie Makes Three.
This shop has been compensated by Collective Bias, Inc. and its advertiser. All opinions are mine alone. #GoldfishGameTime #CollectiveBias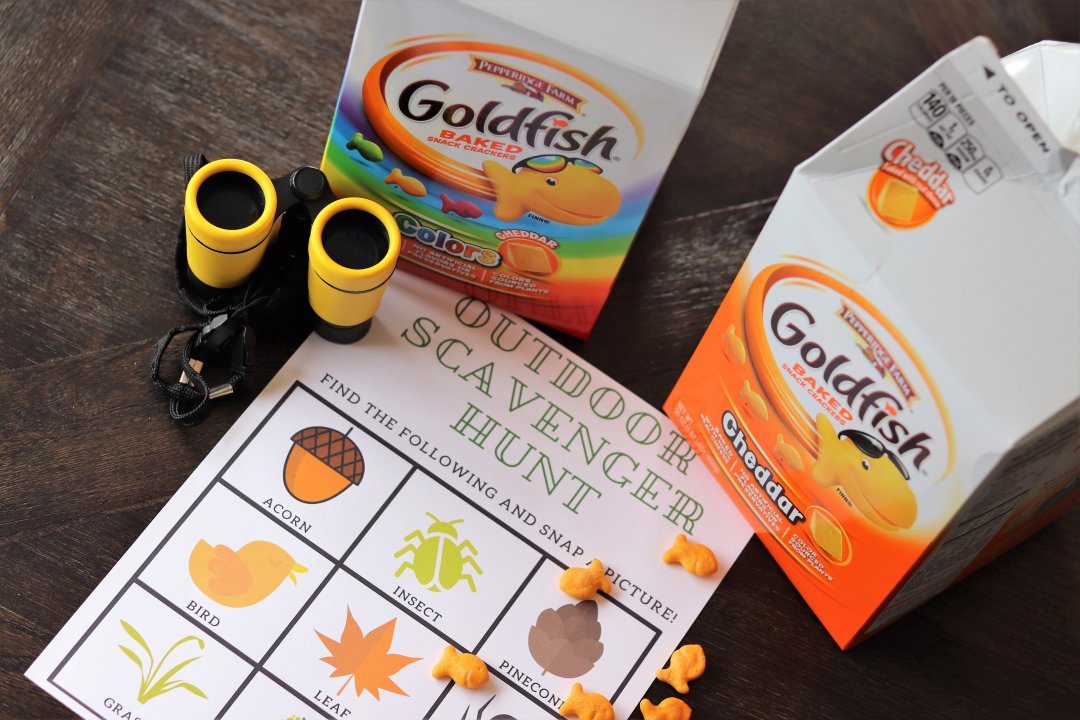 Click on the photo above to shop at Walmart.
There are a few things at our house that we don't mess around with –  1) family time, 2) taking lots and lots of pictures and 3) snacking. With spring just weeks away, we are starting to have cabin fever and we're ready to get out and enjoy some fresh air. I thought it would be a fun family activity to have an outdoor scavenger hunt that let us put our investigative glasses on, practice our camera skills and of course do it with our favorite snack, Pepperidge Farm® Goldfish® crackers Cheddar 30 oz. Carton from Walmart. Hattie got her very first camera recently and loves taking photos of pretty much everything. I do mean, everything!
Now the fun for our adventure is that you'll need to bring along Goldfish crackers with you for your photo fun! Be sure to print out a printable and you're off for adventure. Once you find each item on your checklist, you'll have to come up with a fun and creative photo with your cheesy snack. The more creative the better! Take turns as a family who snaps the photo and who uses their creative skills.
Feel free to use the game board as a guide or a game board. Hattie decided we needed a game board today, but we've played it both ways.
I love this particular game because it is a four season activity. You'll never know what you will find at different parts of the year as well as different areas.  We love this type of activity while we are going on our Story Walk near our home, or our at Grammy's lake house.
Be sure to pack enough Goldfish crackers for the whole family to enjoy! Adventure does make one extra hungry!
I find all of my favorite Goldfish cracker varieties at my local Walmart. Hattie loves the Pepperidge Farm® Goldfish® crackers Colors 30 oz. Carton, while I stick to the classics with the Pepperidge Farm® Goldfish® crackers Cheddar 30 oz. Carton. We picked up both for our Scavenger Hunt! Right now Goldfish crackers 30 ounce cartons are on rollback for $6.46 in store only at Walmart. I found them right as I walked in the store in a main aisle as well and the cookie and cracker aisle. It won't be hard to miss them!
Next time you're ready for a little family adventure, print out this super fun printable, grab some Goldfish crackers and have some family fun! For more game time inspiration, visit this website!
What do you like to do with your family to make special memories?