This shop has been compensated by Collective Bias, Inc. and its advertiser. All opinions are mine alone.  #PurinaMysteries #CollectiveBias
It's no secret I really have 2 two loves. Of course I have Hattie, but my first love was Riley Sue. Riley joined our little family when Jeff and I first started dating. We had decided to move in together and thought if we could handle a dog, we could ultimately handle kids and 11 years later, we have successfully done both!
Having a dog is very similar to having kids. You have to figure out their quirks, what they like and don't like and of course set ground rules.  Over the years, we've learned that Riley really only loves one treat – Purina® Beggin' Strips. I'm serious. We have tried everything. This dog won't touch a crunchy treat to save her life. We have a neighbor who walks the neighborhood every night and every time he sees Riley tries to give her a crunchy treat. She just stares at him.
Since Hattie is officially 3 now, we've gotten her involved in helping with Riley. Riley and Hattie are Best Friends as Hattie likes to say. Sure, there is the occasional tail pulling or being a little rough with our old girl, but for the most part Hattie is really good with her. It's also important for toddlers to have responsibilities and chores, so we put Hattie in charge of a few things that helps make everyone a little happier.
1) Fresh Food and Water – Hattie is in charge of getting Riley fresh food and water everyday. Riley actually has 2 water bowls. 1 in the laundry room with her food and a second in our master bathroom. She likes to have water close to where we sleep at night so she can hop down and get a drink. Call her spoiled, she'll clink her dog collar on the bowl in the middle of the night if she doesn't have fresh water. Hattie is so proud of herself for accomplishing her task everyday and it makes her appreciate having a dog.
2) Playing Outside – Toys aren't usually in Riley's vocabulary anymore, but she loves to play with our neighbor's dog, Penny. We'll invite Penny over every day for both Riley and Hattie to get a work out! If we're outside doing toddler activities, Riley has her favorite spot to sit in under the burning bush and just surveys the scene. We also love going for walks. Hattie insists on walking Riley which can sometimes turn into a toddler fight, but we all get a walk in! Just be sure with all that outside play to do a tick check as they are fierce this year.
3) Snuggles – We can't forget all the snuggles! We have an after breakfast routine where I have a cup of hot coffee, watch the news, and Riley snuggles with us on the couch so we can all wake up a little bit! As you can imagine, toddlers can often be rough with dogs, so we're constantly talking about "Being Sweet" and "Soft Pets" and it works. At night after Hattie goes to bed, Riley and I snuggle on the couch together. She has a favorite blanket and will wait until it's sitting out on the couch. Such a creature of habit.
4) Potty Breaks  – Riley is pretty good about telling us when she needs to go out, she just stands at the back door! Hattie will stand up and yell "I CAN DO IT!" and will let Riley out. She'll watch her like a hawk and proclaim what Riley has accomplished outside. Nothing like getting a play by play of a potty break! Hattie takes great pride is letting Riley out, mainly because she's tall enough to open the back door! She also loves picking out her treat when she's done.
5) Snack Time! 
–  We have a sneaky dog. After 11 years, she knows how to play us and get a treat for nothing. She'll run outside and fake like she is going potty, so you have to watch her. Riley's favorite
Purina Beggin
' Strips flavor is the Bacon & Cheese. I always make sure I have a variety of flavors on hand just in case she starts to get bored with a flavor.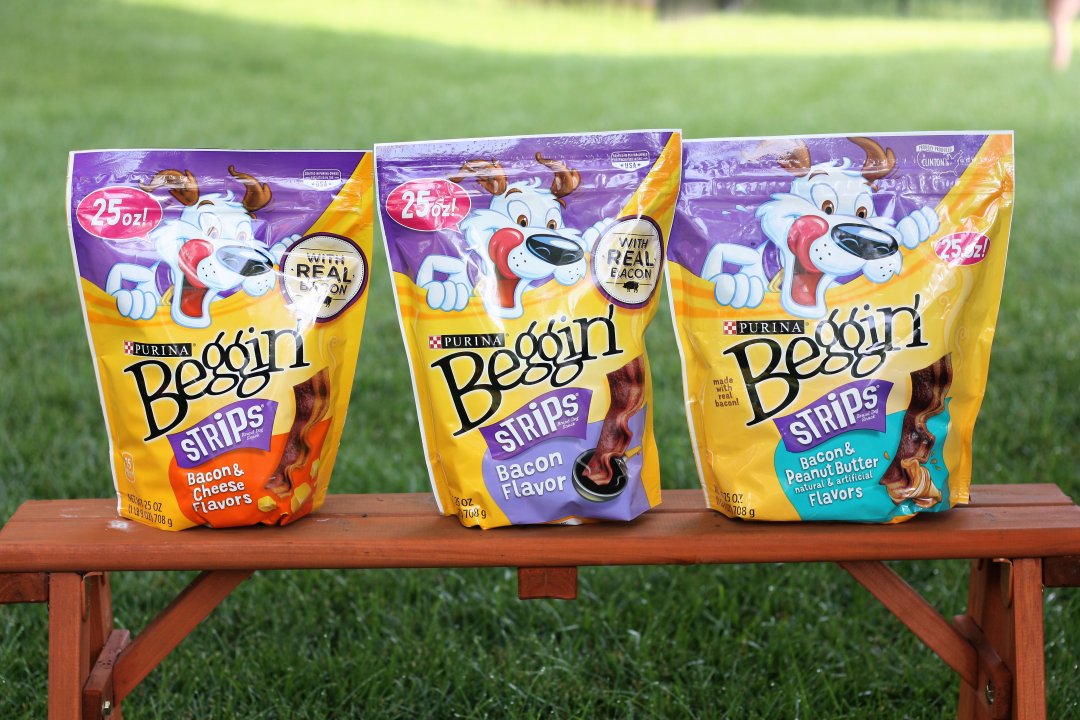 I find all of my
Purina Beggin'
Strips at Petsmart! I just love taking Hattie there not only because of the great variety of products, but it's a great learning opportunity to look at all the animals. Right now, when you spend $40 you'll get a $10 Petsmart gift card. Offer runs from till June 30th, but you can upload your receipt until July 9, 2017! After your purchase, just head on to the
redemption site
to upload your receipt to receive your $10 gift card. You can even redeem multiple gift cards. I stocked up!
How do you get your toddlers involved in household pet chores?